MATCHING GRANT AWARDS 2016
Davidson County annual gardeners' conference
Guilford County annual gardening gala & seminar
Vance-Warren counties annual symposium
COMPETITIVE GRANT AWARDS 2016

Moore County-always available, interactive educational website
Nash County demonstration garden depicting farm life in the early 1900's and information from today.
Vance-Warren counties (Kerr Lake EMG) EMGV memorial garden of pollinator plants and natives.
Awards From the American Society of Horticulture Science, Extension Division 2017 Outstanding Education Materials Awards Are As Follows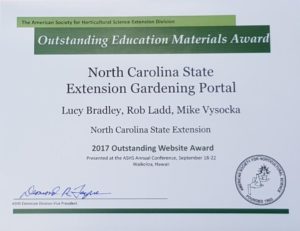 NC State Extension Gardening Portal - 2017 Outstanding website

Congratulations to Lucy Bradley, Rob Ladd and Mike Vysocka for this outstanding resource.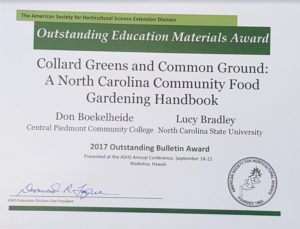 Collard Greens and Common Ground:
a North Carolina Food Gardening Handbook - 2017 Outstanding Bulletin Award
Congratulations to co-authors Don Boekelheid and Lucy Bradley and to editor Debra Ireland.
The Extension Gardener Handbook:

2017 Outstanding Book Award
Congratulations to the entire team of super heroes who have contributed to the success of the Extension Gardener Handbook. A special shout out to co-editors Kathleen Moore and Lucy Bradley for their leadership, John Buettner for his creative genius, Debra Ireland for updating all the brand references, Jill Steffey for final edits and to each of the Master Gardener volunteers and agents who have contributed their time and expertise. Many thanks to Tom Melton for investing in the project.